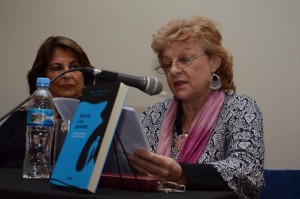 Anthropologist (UBA) with graduate training in Epistemology. Investigadora del CONICET y profesora de la Maestría en Diversidad Cultural de la Universidad de Tres de Febrero y de la Maestría en Pensamiento Sistémico de la Universidad Nacional de Rosario. CONICET researcher and professor at the Masters in Cultural Diversity at the University of Tres de Febrero and the Master of Systems Thinking of the National University of Rosario. Co-fundadora de la Fundación desde América. Co-founder of the Foundation from America. Colaboradora de la sección Opinión del diario La Nación. Collaborator of the Opinion section of the newspaper La Nacion.
Sus temas de interés e investigación cubren un amplio arco transdisciplinario: el arte y la cosmovisión indígena, los lenguajes simbólicos, la espiritualidad, la transformación de la consciencia, el pensamiento holístico y los nuevos paradigmas, entre otros. His topics of interest and research cover a broad transdisciplinary arc art and indigenous world, symbolic languages, spirituality, transformation of consciousness, holistic thinking and new paradigms, among others. Se ha especializado en el estudio del chamanismo, y su práctica es también parte de su propio camino personal. He specializes in the study of shamanism, and its practice is also part of their own personal way. Para Ana María, entrar en la cosmovisión chamánica es una invitación a revisar o abandonar muchos de nuestros preconceptos occidentales habituales. For Ana Maria, enter the shamanic worldview is an invitation to revise or abandon many of our common Western preconceptions. Y al mismo tiempo, es una vía privilegiada para ampliar la conciencia a través del poder sinérgico de la imagen, el movimiento, el ritmo, el sonido, la palabra y la voz. At the same time, it is a privileged way to expand consciousness through the synergistic power of image, movement, rhythm, sound, speech and voice.
Dictó clases y talleres en diversos ámbitos privados y oficiales, entre ellos, las Universidades Nacionales de Buenos Aires y Tucumán, las Universidades del Salvador y Palermo, las Universidades de Cambridge (Inglaterra), Autónoma de Barcelona (España), Autónoma de Occidente (Colombia) y el California Institute of Integral Studies, CIIS (Estados Unidos). He taught classes and workshops in various private and official circles, including the National Universities of Buenos Aires and Tucuman, the Universities of Salvador and Palermo, the University of Cambridge (England), Autonomous University of Barcelona (Spain), Autonoma de Occidente (Colombia ) and the California Institute of Integral Studies, CIIS (United States).
Actualmente, además de la docencia universitaria, coordina grupos de estudio y reflexión sobre el cambio de paradigmas, y talleres sobre chamanismo y simbolismo transcultural. Currently, in addition to university teaching, coordinates groups of study and reflection on changing paradigms and transcultural workshops on shamanism and symbolism.
Ha publicado numerosos artículos especializados y periodísticos. He has published numerous specialized and newspaper articles. Entre sus libros se destacan El lenguaje de los dioses. His books include The language of the gods. Arte, chamanismo y cosmovisión indígena en Sudamérica (2004) y Del reloj a la flor de loto. Art, shamanism and indigenous worldview in South America (2004) and the clock to the lotus. Crisis contemporánea y cambio de paradigmas (2011). Contemporary Crisis and paradigm shift (2011).
Su vocación y compromiso es seguir trabajando por el despertar de la conciencia, por la modificación de los viejos patrones de pensamiento y conducta, por tender puentes entre los nuevos paradigmas y las tradiciones ancestrales de sabiduría, por generar redes transdisciplinarias y desplegar la creatividad.
This Transpersonal Psychology Training is an commitment to continue working for the awakening of consciousness, changing old patterns of thought and behavior, to build bridges between new paradigms and ancestral wisdom traditions, disciplinary networks to generate and display creativity.
Por eso se sintió convocada por la Fundación Columbia, porque cree que es un ámbito nuevo y serio donde podrá seguir desarrollando su actividad. So he was called by the Columbia Foundation, because he believes it is a new field and  you can further develop these activities.